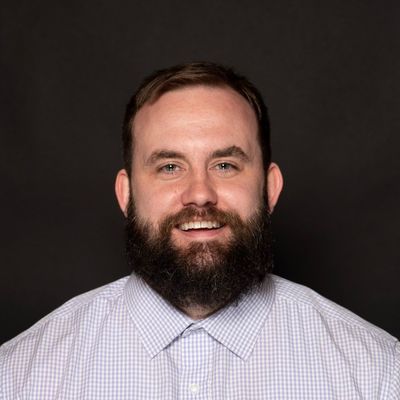 Background
With a formal background in design, and 11 years of work experience in development, I help create and connect the dots from Problem Identification, User Research, Interviews, Testing, and UX Flows, through Visual Design, UI Development and Code Integration.
I've been fortunate enough to work on projects with budgets in the seven figures, speak at conferences around the States, and have had my work shipped to literally millions of users.
I am currently a Senior Designer at Cantina, a digital consulting agency in Boston, MA; but I live in New Hampshire and work remotely. Slack, Zoom, and Gmail are everyday tools, along with gifs, puns and emojis. 🤗 I've got private office space in our house and use a Jarvis standing desk daily, paired with a 27" monitor and Cheeseburger, the 2 year old Great Dane/Lab mix.
Prior to Cantina, I spent 5 years running my own consulting studio, Atedrake, out of a collective workspace in Somerville, MA. Projects ranged from UX and Visual Design, to static UI, WordPress and Shopify development. Clients consisted of small local businesses, and larger agencies needing assistance with their clients.
At the end of 2014, I had the opportunity to create an instructional video with O'Reilly Media, "UI Development for Engineers", that gives an introduction and overview to design and front-end development to developers unfamiliar with those concepts.
I've also taught at the college level, teaching, Introduction to Web Design, Introduction to Web Development, and Advanced Web Development, at Endicott College, my alma mater, during the 2012 ‐ 2014 semesters in Beverly, MA.
Want to chat? I'd love to hear from you! Send me an email and we'll setup a Zoom. mikekivikoski@gmail.com
Work
I've worked on projects with user bases greater than 7 million, IPOs with tens of millions on the table, and companies with gross revenue in the billions; while being humbled to have worked with dozens of small companies that have trusted me with their digital presence.
I helped create and build Empower's user interface and accessibility updates. I designed Connection's checkout flow using user interviews, flows and interactive prototypes. I designed and built TaskRabbit's task creation form, with data from user interviews and tests, when they transitioned from RunMyErrand and were prepping for San Francisco. I built several high-fidelity prototypes for processing and registering new users for the Democratic National Committee. I developed the responsive experience for Quoddy on Shopify, and created the responsive redesign built on WordPress for Central Square Theater.
Due to the nature of my consulting work, I'm not able to post a lot of work publicly.
A portfolio is available upon request.
Areas I work in
User and Project Research
User Interviews
User Flows
Design Sprints
Visual Design
Design Systems
HTML, CSS / Sass
CSS Architecture
Accessibility
Performance
Typography
While I work in the front-end/user interface of products, I have experience working within applications written in various languages and frameworks. Including, in no particular order: JavaScript, Node, Angular, Python, PHP, WordPress, Shopify, and Ruby on Rails.
Selected talks, workshops, podcasts and media
Cantina Workshop — Boston, MA, August 2017

Legitimizing Design Thinking in Large Organizations

CascadiaJS — Seattle, WA, August 2016

CSS Pseudo (Slides)

BostonCSS — Boston, MA, June 2016

CSS Pseudo

NYC Creative Tech Week — New York City, May 2016

Evolving Web Applications with Module Components

Great Wide Open — Atlanta, GA, March 2016

Evolving Web Applications with Module Components

Full Stack Toronto — Toronto, ON, Canada, November 2015

Evolving Web Applications with Module Components

HTML5 Developer Conference — San Francisco, October 2015

Evolving Web Applications with Module Components

Full Stack NH — Portsmouth, NH, June 2015

Design in the browser

O'Reilly media — October, 2014

UI Introduction for Engineers

Creative Mornings — Boston, MA, March 2012

Taking the plunge, quit your job for self employment

Boston Ignite — Boston, MA, April 2012

Taking the plunge, quit your job for self employment
I occasionally post podcasts for Design, Build, Test, Repeat at dbtr.fm
My second child was born in early 2016, and time outside of work has been used for family time. This is why you'll notice a decrease in my writing and speaking content since then. 👨‍👩‍👦‍👦